Estuary
Heliwood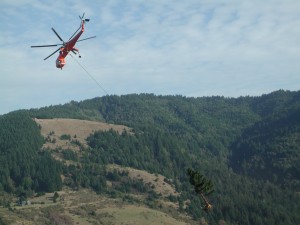 A helicopter has several key advantages and disadvantages for wood placement in river systems.  Advantages are the scale of operation and intact, whole trees can be used.  Disadvantages of helicopter use include cost, complexity and additional challenges.  The Mattole Salmon Group chose to pursue the use of a helicopter for wood placement with the encouragement of our technical advisory comittee.  With seven large wood structures downstream in the estuary, whole trees might hang up and or create their own jams and island building structures.  The idea is to give the river the tools it needs to build structures and let the rivers dynamics do the work.
The placement of 100 whole trees took place between September and November 2013. A helicopter was used to place trees to conserve as much branch and root wad complexity as possible. All areas disturbed in the process of tree removal were planted and mulched.
A monitoring program was set up in which each trees has an individual identifying scannable tag.  These tags are scanned and each trees location is mapped.  This way locations and movement of the trees can be tracked.
---
Slough Excavation Coming soon.
---
Estuary Structure #7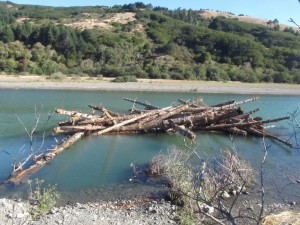 MSG's Estuary Structure #7 project consisted of one complex Large Woody Debris (LWD) structure and three apex jam structures, constructed in August of 2011. These wood structures, funded by USFWS, are part of an on-going effort to restore habitat conditions in the Mattole River Estuary. Each of the seven complex LWD structures are intended to be minimally mobilized and thus are anchored to the boulder complexes. These structures are intended to provide a minimal base line of habitat in a diverse range of areas (north bank, south bank, and at various distances from the ocean) and allow for fish use during different seasons, weather conditions and river flows.
The apex jams placed during summer 2011 brought the total apex jam numbers to 6 in the lower estuary. Upon completion of structure 7, the MSG had placed a total of 151 logs  from all of our large wood restoration projects in the estuary over the last 10 years.
---
Estuary Structures #5&6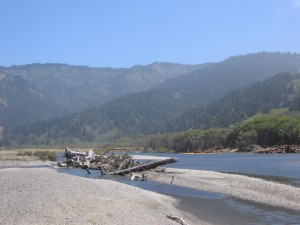 In August of 2010, the MSG constructed two complex LWD structures and four apex jam structures on the north bank of the river. The Estuary Structure #5 and 6 project was funded by EPA and USFWS. The jams were unanchored and constructed by using a minimum of four large pieces of wood each (40+ foot long pieces with root-wads). The root-wads were placed up-stream and the body of the log was buried downstream.
Planting of rooted alder trees took place in January 2011.
---
Estuary Structures #3&4 Coming soon.
---
 Estuary Structure #2 Coming soon.
---
Woodzilla Coming soon.